Shop in Your Preferred Destination and Language
Welcome to Vivienne Diamant Official Site
Your are currently in #SHIPTO# / #CY#/ #LG# store
Click below to change destination
Click below to change language
Click below to change currency
We currently deliver to 25 countires or regions and offer 4 language choices.
Shopping Preference: France Change
My AccountLogin or Create Account
Necklace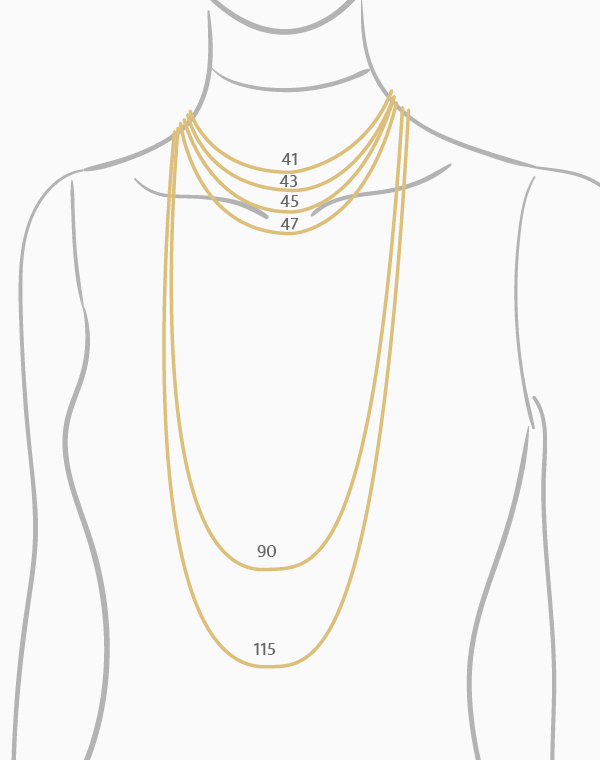 Vivienne Diamant necklace has at least 2 adjustment rings to adjust the central motif to its ideal position. Generally, the distance between rings is set to be about 2 cm (if any). The image is indicative and elaborated to guide customers on their choices. Please note that necklace display length may vary with each design, choice of adjustment rings, style of wearing, and clients' neck sizes. The size table below is the main guide for you to choose necklace size. 41* cm is the standard size providing at in-flight shop.
| | |
| --- | --- |
| Size Label | Adjustable Lengths (cm) |
| 41* | 39~41 |
| 43 | 41~43 |
| 45 | 43~45 |
| 47 | 45~47 |
| 90 | 45~90 |
| 115 | 57.5~115 |